Anita Ponton: Techno Phenomenology
From Critical Practice Chelsea
<table cellpadding="0" cellspacing="0"> <tr> <td valign="top" style="padding-right: 20px;"> Art Workers Guild, December 1, 2009
Description of the talk from the call:
In my practice I work across multiple disciplines, with an emphasis on the performative, I seek to interrogate the relationship of the female body to visibility, to representation and to space. My research, originating with my PhD project, considers the impact of technology on the body in performance. As well as discussing aspects of my practice, I will discuss my methodology as a practice based researcher.<br>
I will briefly outline a strategy that made it possible for me to somehow 'speak through the practice' and into the theory, in the form of academic writing. In my understanding of practice-based research, the artist/researcher has to develop a highly specific and personal methodology, according to the specifics of their practice. For me, a constant involvement with technology (both hi and lo-fi) demanded that I find a methodology that could address both the ramifications and impact of these technologies upon the work (after all, no material, no technology is neutral within any artwork), as well as some of the philosophical issues raised with regard to representation and self-hood (a by-blow of my performances)."<br>
Using my own experience as a starting point for a seminar on practice based research strategies, I will discuss the relationship of artistic practice to research interests. Drawing on personal experience, I will speak to how an artist/researcher develops a language or strategy that enables and facilitates effective and rigorous practice-based/practice-led research. I will focus on developing methodologies and examine how one creates a useful research plan and talk about the pitfalls and difficulties one encounters in this kind of research, and how one might solve or deal with them. - Dr. Anita Ponton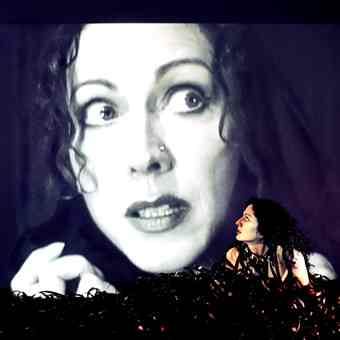 <br> Still from Unspool, Photography: Flip Wibbly Jelly.
---
Ponton began her presentation by playing a "trailer" of her (older) work, which showed her in various poses and guises <br> Reviewing the documentation of her earlier work: <br>
Started edging towards performance...became more concerned with process - doing instead of having something done. Challenge: metal block - how to get her head around performance - how to become a performer: started recognized her interest in film and video...her fascination with stepping into the picture and performing the image. She became intrigued with occupying this visual.
Realization:<br>
There's no objectivity in performance - you are the work - the difference between you and the work is not clear and that's interesting - Using herself as a vehicle, as a material…"I use myself because I'm cheap and I do what I'm told" ...at first you get caught up with image, especially as a woman <br>
Method:
Her performances start with a picture…(vehicles: hysteria and tension)<br>
Narrating One's Practice:
You have to tell people about the work: performance is a complex art form...not self-evident, especially in documentation (Methodology can't speak for itself.) - Elaborated various ways of narrating her project - but her family (still) doesn't understand her work and so they don't come to see her perform.<br>
Disseminating work:
You have to be very proactive about getting your work done…if you put a performance on in this country, it's because you really, really want to do it…Curating your own work means you create the best platform possible…Questions to ask: How do I want my work to be seen and in what context?<br>
Why did she do the PhD?:
Opportunity to engage in equal debate on equal terms...It's about expanding debate...Doing a PhD doesn't make me a better artist or a nicer person…Need to get the language so you enter the debate on a very high level…The first year was tough…You're faced with the enormity of the task and unsure how to address it. Various anxieties: (I shouldn't be there…There's been a mistake…) But eventually, one develops more self-assured and sophisticated ways of working…Turning point: When Ponton began appreciating how she put together a particular piece of work…this helped her identify her methods, which had previously been tacit.<br>
Another example of Ponton's work:
Documentation of Seen. Unsaid - Sound track comprised of sampling from films: For the performance, Anita lip -synched these samples (endurance - performance lasts for several minutes)…Wanted to be a furious blonde and spit out the dialogue and embody a moment of real tension…but also look a generic Hitchcock blonde… She wore heavy makeup (which started to streak under the lights)...screams towards the end - breaks and creates tension - used her own fear to drive the performance <br>
On Being Someone Else:
Ponton didn't want to be Anita…didn't want the audience to encounter her first...Looked like she was dragging up…Less self-consciousness...Different voices…sounded very different...She created an image she wished to step into...The process of making these persona taught her who she was as an artist - Less is more: threw away what she thought were precious moments…If she could do it again, she would make it faster…You can't physically overlap a lip-synch… <br>
On Putting an artwork together and how this informed her approach to writing:
Writing and practice are like oil and water. Decisions – pragmatic and instinctive (there are many types of decisions; appreciating the range can be helpful to your work, to your process) How does writing work? Writing is about finding your own language—your own voice…and learning to inhabit this voice. Problem: tried aping "the academic voice" – didn't work – sounded hollow…Tried a new approach: writing to herself and this produced another kind of voice. Two voices: academic voice and the artist voice…and she wove these together – inspired by double-voiced texts, such as Kristeva's "Tales of Love". But chose not to structure PhD as an overt dialogue. There are always multiple voices – a way to exercise contradiction…to move between registers…and then at the end, Ponton found a new voice…Creative and instinctive voice that also has critical rigor…but it was a struggle (she battled at every line)...writing methodology came out of her practical work. Her methodology – comes from her writing – puts all the shit together and then edits it down to get to the point.<br>
The PhD as a process:
Writing also about unpicking one's assumptions as the first step in thinking things through—a very complex process...Doing a PhD was about being a grown up – you can't do everything at the same time…She gave herself a lot of extra work without understanding why…Lots of deferral…assailed by doubts (part of the process...Makes it difficult for you to be an artist at a particular time…put all her papers on the floor and started editing like she might edit a soundtrack - Applying the studio practice to the theory might sound simplistic but it's a strategy to hold in your head, it's about understanding own motivations and finding an approach that works for you. <br>
Newer work:
Holding poses for around 20 minutes – body becomes sculpture – it's about the abstraction of the body; it's about bodies in space. Creating tension as a device for structuring the piece. It needs to be difficult, a little bit difficult.
---
Questions and Discussion: <br> Q: Are you still writing? <br> R: Yes. <br>
Q: What were your experiences post-PhD?<br> R: It was like a blank space...the biggest piece of advice I can give anyone is to choose your readers well – ensure they get on – research whether or not they've got a history...Make it your business to know...You need subs in case one of them pikes...You should have about six names. <br>
Q: Could she say something about technologies and the body and performance and the issues that arise in terms of subjectivity and the subject position of a woman…<br> R: This wasn't something she explored at length in the thesis, as she expected her readers to be up to speed...<br>
Q: Does the anecdotal voice (in her thesis) express doubt and is the academic voice more confident? <br> R: Yes. It gives you a space to articulate this doubt…Idea of vertigo (references the title of her research) is about standing on the edge and being just about to step off. I don't believe in my own authority enough...We're in an unenviable position...Research emphasizes originality and truth…But as an artist, we're deconstructing these things…<br>
Q: Did the originality come from the theory or the practice? <br> R: Definitely the theory…Almost mathematical: there's a showing of how things work out…<br>
Q: A question about the original claim to new knowledge: Posing the question is important…Ponton's reference to techno phenomenology…body art…bodies, machines and media…<br> R: She's interested in how it subjectively feels to be objectively body…and existing notions of techno phenomenology didn't address this concern in a substantive way...it's about how as artists, we work with technologies…<br>
Q: Query regarding the role of writing in her research: <br> R: When you write it down, you fix it in a way that doen't exist in the work…Texts are important to conceptualizing the art…Writing of the thesis got in the way of the practice...it's very time consuming...it gives you a knock...It became something I wanted to punch because it represented a lot of struggle, a lot of hard struggle. The biggest thing it gave me was confidence...<br>
---
Return to PhD Masterclasses * Talks * Walks and Talks * Practice Literature </td> <td width="250px" valign="top" style="padding-left: 20px; border-left: 1px dotted #69c;">
Comments:
</td> </tr> </table>