KNOT
From Critical Practice Chelsea
---
THE KNOT is a mobile platform for artistic presentation and production, traveling to Berlin, Warsaw and Bucharest in 2010. In each of the three cities, it stops for a few weeks, inhabiting different areas of public space, and offering itself as an open space of encounter, exchange and experimentation.

Through its unexpected presence in the city, THE KNOT proposes a model for social interaction, thus being not so much a container as a transformer, cre- ating new ways in which the public space could be used and produced. The participants invited by the curatorial collective to activate THE KNOT put for- ward not only their professional skills, but also their physical company, their desires and imaginative will. They become temporary members of a protean and nomad crew, acting both as hosts and guests in a shared and welcoming place.

At the intersection between the real and the imagi- nary, THE KNOT is an initial point where a thorough examination of the relationships between the indi- vidual, the group and the place of interaction is undertaken. The project responds to the increasingly normative way in which these relationships are de- fined in our current societies. Envisioning alternati- ve behaviours in the city, based on cooperation and self-empowerment is one of the main tasks of THE KNOT. Also of actual relevance is to explore what is left of collective ideals or how one can overcome the current conditions of harsh economic competiti- on and the tendency towards national or ethnic iso- lation. Temporary communities are the tool of crea- ting another notion of a "promised city", apart from its capitalist vision.

---
CP's contribution (Late May - Early June) - Description in Progress - for The Knot's press

Jointly facilitated by Marsha Bradfield, Michaela Ross and Scott Schwager of Critical Practice (London) and The Knot, the Public Presence BarCamp (or the Public Present BarCamp?) is an encounter open to anyone concerned with notions of being-in-public, and who wishes to explore ideas about "publicness": the public body, the public domain, the production of public knowledge, the exercising of public space, etc.
BarCamps are an international network of user-generated unconferences — open, participatory, and often thrilling workshop-events, whose content is provided by participants.
They work like this: presentations are proposed on-the-day by attendees. We then try, live and on-site, to build themed 'sessions' or groups of related presentations using white/flip boards. All attendees are encouraged to present and share their knowledge and expertise. Contributions should be between five and ten minutes long; seven is optimal. Each one will be followed by questions/discussion. We try and keep lots of notes (live scribe) and everyone is encouraged to share information and experiences of the event, both live and after the fact, via blogging, photo sharing, social bookmarking, wiki-ing, twitter, etc.
While some presentations at the Public Presence BarCamp will consider Parade, a two-day exploration into "publicness" on the Rootstein Hopkins Parade Ground (Chelsea College of Art and Design, London, 22nd - 23rd May) and others will focus on The Knot's public activities in Berlin, still other presentations may consider the relations among bodies, knowledge, infrastructure, art, social practice and fields of action involved in public presence.
Critical Practice is a cluster of artists, researchers, academics and others hosted by Chelsea College of Art & Design, London. Our research and practice revolve around art and issues of ethics and governance in relation to cultural production. We explore new models for creative practice, and look to engage these models in appropriate public forums, both nationally and internationally. Our current research is concerned with public modes of assembly and forms of address. For more information please visit criticalpracticechelsea.org.
---
return to PAST Projects * Main Page
Return to PAST Projects * Main Page
Comments:
---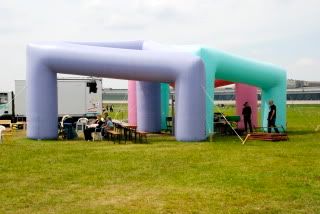 The Knot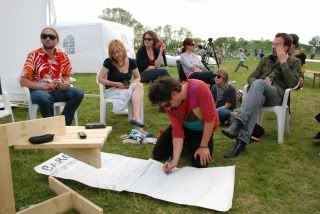 Critical Practice barcamp at The Knot, May 29, 2010




Critical Practice barcamp at The Knot, May 29, 2010