Sophie Calle: Talking to Strangers
From Critical Practice Chelsea
<table cellpadding="0" cellspacing="0"> <tr> <td valign="top" style="padding-right: 20px;">
Whitechapel, Oct 16, 2009 - Jan 3, 2010
Acclaimed for her photographic and film installations, Sophie Calle's work reports on encounters and situations that she sets in motion. Whether asking strangers to sleep in her bed, or inviting an author to take charge of her destiny, she documents social interactions that require a pact of complete trust. This exhibition brings together major works from the 1980s to the present.
Born in Paris in 1953, Calle began taking photographs and making notes as she followed strangers on the streets in 1979. Image and text, presented in compelling narratives, have since formed the basis of her work. Poised between private and collective experience, they allude to journalism, anthropology and psychoanalysis, as well as to literature, the diary and the photo novel.
The exhibition premieres the English language version of Prenez soin de vous (Take Care of Yourself), a highlight of the 2007 Venice Biennale. Calle invited 107 women from a ballerina to a lawyer to use their professional skills to interpret an email in which her partner breaks up with her. The poignant, amusing and poetic result forms a large-scale installation that transcends the personal to provide a monument to the women involved.
The exhibition continues with earlier works including The Bronx, 1980, where Calle asked residents of the south Bronx in New York to take her to a place of their choice, and her collaboration with American novelist Paul Auster in 1994, where she becomes one of his fictional characters. The exhibition is accompanied by an indispensable anthology of key texts about Calle's work, co-published with Violette Editions.
Sophie Calle is organised in collaboration with the De Pont Museum of Contemporary Art, Tilburg.
---
Description from Paula Cooper Gallery
I received an email telling me it was over.<br> I didn't know how to respond.<br> It was almost as if it hadn't been meant for me.<br> It ended with the words, "Take care of yourself."<br> And so I did.<br> I asked 107 women (including two made from wood and one with feathers),<br> chosen for their profession or skills, to interpret this letter.<br> To analyze it, comment on it, dance it, sing it.<br> Dissect it. Exhaust it. Understand it for me.<br> Answer for me.<br> It was a way of taking the time to break up.<br> A way of taking care of myself.<br>
In this "tour de force of feminine responses…executed in a wild range of media," Sophie Calle orchestrates a virtual chorus of women's interpretations and assessments of a breakup letter she received in an email. In photographic portraits, textual analysis, and filmed performances, the show presents a seemingly exhaustive compendium with contributions ranging from a clairvoyant's response to a scientific study, a children's fairytale to a Talmudic exegesis, among many others. Examining the conditions and possibilities of human emotions, Take Care of Yourself opens up ideas about love and heartache, gender and intimacy, labor and identity. 107 women (including a parrot) from the realms of anthropology, criminology, philosophy, psychiatry, theater, opera, soap opera and beyond each take on this letter, reading and re-reading it, performing it, transforming it, and pursuing the emotions it contains and elicits.
Since the late 1970s, Sophie Calle has made work that investigates provocative and often controversial methods for confronting her emotional and psychological life. She is well-known for her sleuth-like explorations of human relationships, which led her to follow a stranger in the streets of Venice and document his every move, or to find work as a hotel chambermaid in order to photograph the belongings of the hotel's guests.
Take Care of Yourself was first presented at the French Pavillion in the 2007 Venice Biennale. It traveled to the Bibliothèque Nationale, Paris (4/1 – 6/7/08) and to DHC/ART, Montréal, Canada (7/4 – 10/19/08). It is scheduled to continue traveling to various international venues, including Sao Paulo, Rio de Janeiro and Salvador de Bahia, Brazil, in 2009 and 2010. In addition, the artist will have one-person exhibitions at the Whitechapel Gallery in London (Oct. 2009), the Palais des Beaux-Arts, Brussels (5/26/09 – 9/13/09) and the DePont Foundation, Tilburg, The Netherlands (1/16/10 – 5/16/10).
---
dense - artwork demands to be read, texts (both verbal and visual) are dense (literally, walls of text)
artist book: expensive but supports remote reading across interpretations (how they relate and differ, recurrent strategies [counting appearance of forms]) - emphasis on reading signaled by reading areas (visitors could sit and read works on angled shelves)
frames inside frames
text printed on glass
each woman's interpretation made more aesthetic (similar to increased saturation in photographs)
wide variety of fonts and poses - encourages comparison between subjects
videos
where Calle's other work her artist statement/intent is written above work, near the ceiling, in short sentences, here there appears the names and professions of the contributors. For example: Philologist Barbara Carson
---
Other artworks in the exhibition<br>
Unfinished', Sophie Calle and Fabio Balducci, 1988-2003<br> Upon receiving a series of photographs taken from an ATM security camera, Calle becomes involved in a perplexing fifteen-year investigation. She manages to steal three surveillance tapes, and interacts with strangers, bank employees, and a pawn shop merchant in an attempt to clarify the meaning of money, security, and the anonymous photographs. The images, originally exhibited in an installation entitled Cash Machine, are now presented as the central narrative in this unresolved investigation.source
small narratives - comprise a larger decision-making process
research - decision-making process, trying to use her setbacks
the way images operate in her work - silent images, stop photography, almost animate
investment and yield
explores small narratives
emphasis on the camera - Like the camera is making a confession; turns self into a CCTV
explores found documents and adds own experience…answers about money
Research/research - answers – plays with various speeds and styles…lots of numbers - alternative way of representing experience
paying people and the work takes on a life of its own
diversions: ex. safes; secrets – she puts safes in people people's homes but keeps the key – home owners have to live with one another's secrets...this project is an example of how things get off track
images of hands talking replaces heads talking
stills - animated with music, strong beat - music beats with authority to structure the narrative
Gotham Handbook, Sophie Calle and Paul Auster, 1994<br> Personal instructions to SC on how to improve life in New York City (Because she asked)<br>
By discovering artistic value in chance events of ordinary life, Calle displays parallels with the Situationists, who, as Nicolas Bourriaud observes in Relational Aesthetics, follow a concept of construction, 'intended to replace artistic representation by the experimental realisation of artistic energy in everyday settings'.6 This psychogeographic route to art production emerges in Gotham Handbook (1994), which derives from a set of instructions that Auster gave Calle when approached to invent a character she might resemble. His innocuous directives include beautifying a little spot in the city, such as a street corner, a subway entrance or a tree in the park, helping the homeless and talking to strangers. He advises her to smile at the people who visit, talk to them wherever possible and if you run out of ideas, turn to the subject of the weather: 'It is a sign of good will, an acknowledgement of your common humanity with the person you are talking to.' As her locus, Calle selects a phone booth, decorates it with flowers, sweets and a notepad, and sprays on the word 'Enjoy', as seen in a photograph accompanying a written record of her achievement: 'Results of the Operation – 125 smiles given for 72 received… 154 minutes of conversation.'7 It is a work of fiction and a humorous anthropological investigation, revealing through image and text how most dialogue takes the form of platitude. But as Auster observes, the character of 'Sophie Calle' makes people happy, and the same holds true in real life. By facilitating the extraordinarily positive responses of actors in her performances, the artist points the way to an ethical code of living, which might ameliorate the social deprivation inherent in the modern condition. (from an essay by Nicola Homer, Whitechapel)
---
Return to Walks<br> Return to Marsha Bradfield's Research Hub<br> Visit Marsha's bio page <br> Return to artists, researchers, academics and others<br> Return to Main Page <br>
</td> <td width="250px" valign="top" style="padding-left: 20px; border-left: 1px dotted #69c;"> <br>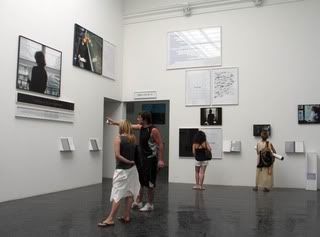 <br> installation view source